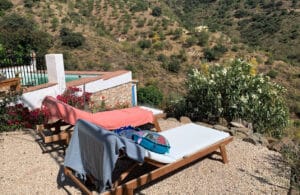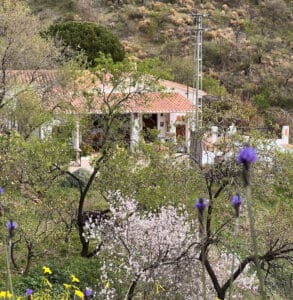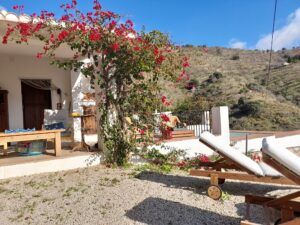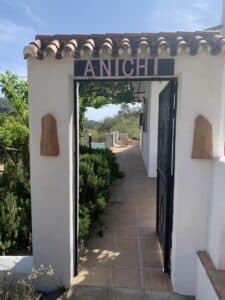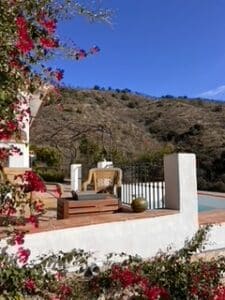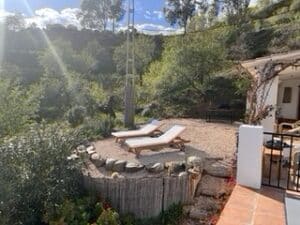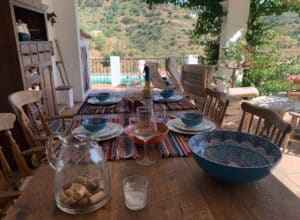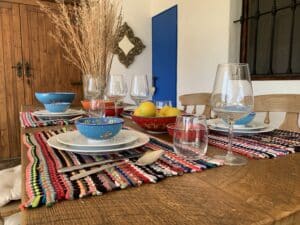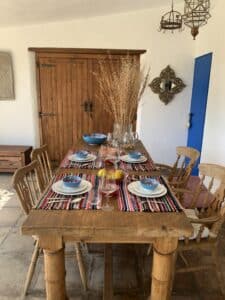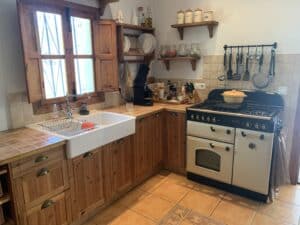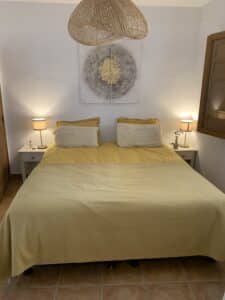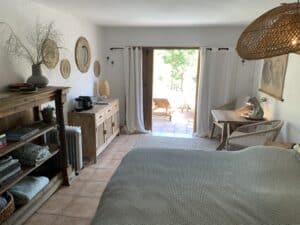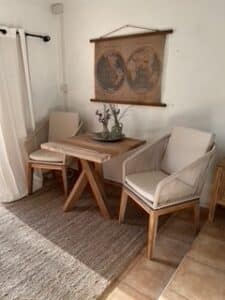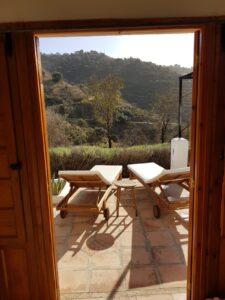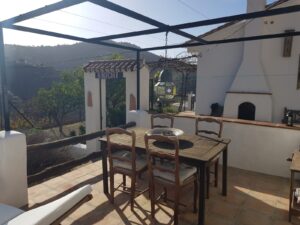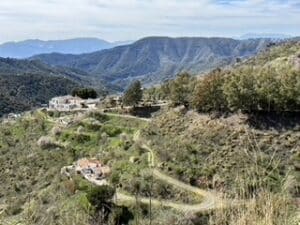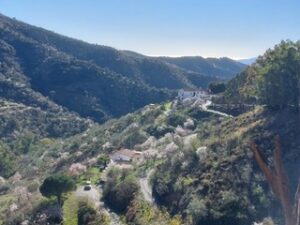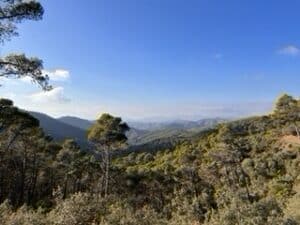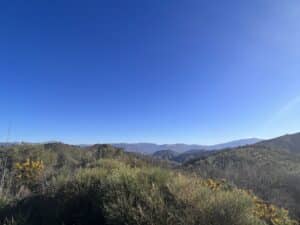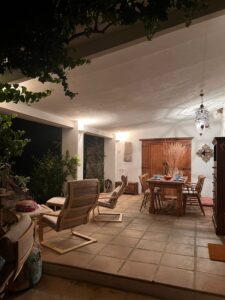 Casa Anichi
From € 750.00 p/w
6 persons
20 km. from Malaga
30 minutes from beaches
Beautifully situated in the middle of nature
Great price
Toevoegen aan mijn favorieten
A lovely holiday home for 6 people with swimming pool, in the middle of the beautiful nature of the Axarquia, just 20 kilometers from Malaga. Casa Anichi offers a wonderful accommodation for a very friendly price.
Description of the holiday home
Casa Anichi provides 3 bedrooms, all for 2 people. 1 of the bedrooms is located in the cozy outbuilding, the guests using this studio can use the shower of 1 of the bathrooms in the house. This studio is equipped with a private toilet and sink. There are two bathrooms in the house, one with a bath-shower combination and one with a bath and separate shower.
From the kitchen, which is adjacent to the small living room, there is access to a lovely terrace. The living room has a wood burner, there are also electric heaters for cooler nights. The television offers Spanish and Dutch channels. In the kitchen you will find, next to the gas stove, among other things, an oven, dishwasher, Nespresso coffee machine. There is also a washing machine at your disposal. In terms of entertainment, you can connect the Bose speaker, and there is Google Chrome.
On a terrace at the side of the house you will find a swimming pool of 4×5 meters, with a maximum depth of 1.70 meters. Beach towels are provided for the sun loungers. You can also barbecue outside and there is a dining area with 6 chairs.
Playing around with your dog in the large garden that surrounds the house will make you one with nature. The fig, almond, eucalyptus trees and various citrus trees naturally lead you through the garden while the birds chirp softly in the background. In the evening, the starry sky can be admired from the lazy chairs and you can toast to a successful day.
Tip from La Taha
If you get the chance, have lunch at El Tintero restaurant on the beach at El Palo. You can't make reservations here, you can't even really order anything. Yet the restaurant is incredibly popular with both tourists and Spaniards; you may have to wait for a table to become available. Upon entering you can order your drinks from one of the waiters, when they have been brought, the cost of the drinks will be written on the tablecloth.
And then you have to start paying attention, the servers walks through the restaurant with arms full of plates. They shout out loudly which dishes they're carrying, if you hear or see something that looks good to you, you raise your hand. This way you can order according to your own wishes, as much or as little as you like. If you want to pay, the number of empty plates on the table will be counted, so that the bill can be drawn up for you. Any dessert or coffee can be ordered and paid for at a separate counter in the corner of the restaurant.
Immediate vicinity of Casa Anichi
You will be staying 20 kilometers from the city of Malaga, several beaches can be reached within half an hour. You can do your shopping at the Mercadona in El Palo. The nearest restaurant is Venta Galway, which can be reached via mountain roads in less than 15 minutes. You can hike to your heart's content in this area, you will stay at the foot of the Montes de Malaga natural park.
Remarks
Malaga airport can be reached within 45 minutes.
The last part of the route is over an unpaved road.
For a video tour of Casa Anichi, click here.
Availability
Minimum stay 3 nights.
The holiday home is available for rental in the months of June, July, August and September. A stay in the other months is also possible on request. Email us for availability.
Price
Includes
Gas, water and electricity
Bath, bed and kitchen linen
Final cleaning
Stay of dogs
Excludes
Use of firewood in colder periods
Intermediate cleaning for a stay of 2 weeks € 75 (optional)
---
Facilities
Bose
Dishwasher
Electrical heating
Fly screens
Google Chrome
Loungers
Pets
Pool
Television
Washing machine
WiFi
Wood burner
barbecue
Rust en vermaak
We verbleven hier eind december. Heerlijk in de zon als het in Nederland slecht weer is. Overdag kun je in Malaga zonder jas lekker op een terrasje wat drinken. 's Avonds moet je een vestje aan en kun je gewoon buiten eten. Oudjaarsavond gewoon op een terrasje zitten. Geweldig! Een bezoek aan El Tintero bij El Palo vonden wij bijzonder leuk en vooral lekker.
Vanuit het centrum van Malaga is het even de berg oprijden naar de casa maar dan ben je ook helemaal uit de drukte weg. De casa zelf is rustig gelegen met redelijk veel privacy.
Alles is voorhanden. Vaatwasser, wasmachine, oven. Eigenlijk alles wat je nodig hebt en meer. Persoonlijk zou ik hier gaan wonen 🙂 Houd er rekening mee dat je echt een auto nodig hebt.
Pluspunten:
– Rust
– Rust
– Rust
– Alles aanwezig
– Veel goede restaurants in de buurt
– Malaga dichtbij (6e stad van spanje)
Minpunten:
– Laatste stukje weg naar het huisje is wat ongemakkelijk
– Auto is een must
Ont-stressen
Januari 2023 heb ik hier mogen logeren. Heerlijke plek om totaal te ont-stressen. De stilte, de rust en de natuur zijn hier adembenemend. Zelfs in januari zit je hier in de vallei gemakkelijk buiten met je thee of koffie.
Elke ochtend startte ik buiten op de ligbedden mijn meditatie, met op de achtergrond de vogels en het geruis van de wind door de boomtoppen. De bomen die al in bloei begonnen te komen, de oneindig vergezichten van bergen en zee, bos- en bergpaden voor heerlijke natuurwandelingen, maakt deze plek een stukje hemel op aarde.
Het huis zelf is sfeervol ingericht en werkelijk van alle gemakken voorzien. Het voelde als pure luxe! Heerlijke schone katoenen lakens en stapels zachte handdoeken (gelukkig geen hotelkatoen). En die douche… wauw, wat een luxe. En voor als je toch je eigen was wilt doen is er zelfs een wasmachine aanwezig. De bergritten zijn hier werkelijk fantastisch en het is dan ook zeker geen straf om 30 min te rijden om de stad Malaga of andere dorpen aan het strand te bezoeken.
Ik heb in ieder geval een geweldige tijd gehad en zou wensen dit 3x per jaar te kunnen doen. Ik gun iedereen een keer Casa Anichi. <3
Genieten, wijnen, lachen
Wat heb ik genoten:
– van de gastvrijheid
– van het mooie huisje en vrije tuin
– spelen met Sterre
– het mooie en zonnige weer
– het lekkere eten
– wandelen, lachen, shoppen
Kortom; I will e back!
Sinaasappels
Zo heerlijk om wakker te worden in de stilte van de natuur. Eerste dagtaak, sinaasappels plukken voor verse jus, de eerste zonnestralen opvangen en luisteren naar de vogeltjes. Wat een ruime keuze om dorpjes en steden in de buurt te bezichtigen! Maar wat een heerlijke plek om een boek te lezen en natuurlijk een duik in het zwembad!
Rust, natuur en harmonie
Wat een heerlijke plek om weer helemaal tot jezelf te komen. Van de wandelingen vanuit het huisje met prachtige vergezichten heb ik samen met mijn hond zo genoten! Lekker een wijntje doen en eten op het strand maakte het een fijne vakantie. Ik zou dit huisje zeker weer bezoeken!
Leave a review
Last Minutes
contact
---
| | |
| --- | --- |
| Red | Not available |
| Green | Available / Possible day of arrival |
| Yellow | Option |
| Grey | No valid arrival day |
Click on the dates of your choice in the calendar below to choose the day of arrival and departure.
Reserve your accommodation - Quote
Your Co-tenants (including children)
Check your personal data
(Reservation not final yet)
Details of the main tenant
{{gender}} {{firstname}} {{lastname}}
{{street}} {{housenumber}}
{{secondary-phonenumber}}
Your Co-tenants (including children)
Confirm your booking
(Reservation not final yet)