Playa de Mazzarón
The beaches of Mazzarón are among the cleanest in Spain. Playa de Mazzarón is still free of mass tourism, and offers the perfect balance between entertainment and nature that is needed to enjoy a nice beach holiday. From Playa de Mazarrón you can walk to the marina in 10 minutes, and after a 20 minute walk you reach the old center of the city.
From its origins, Mazarrón has been linked to the mining of its mountains, which are rich in lead, zinc, silver and iron. Extensive mining was already carried out in Phoenician, Punic and Roman times, leaving abundant archaeological remains in the area.
Holiday homes, villas and apartments in Playa de Mazarrón
Want to rent a holiday home in Playa de Mazzaron? View our range of holiday homes, villas and apartments.
Would you prefer personal advice about which holiday home is best suited for your holiday? All holiday homes have been personally visited by us. Call us on +31-(0)85-043 88 50 or get in touch through email.
Our holiday homes Playa de Mazzarón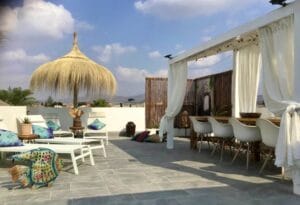 Penthouse Playa
Spain > Alicante-Valencia > Alicante > Playa de Mazzarón
A stone's throw from the beach
Terrace of 130 m2
Very complete interior