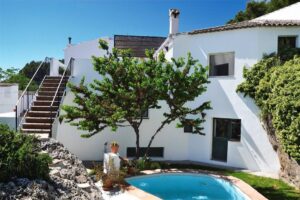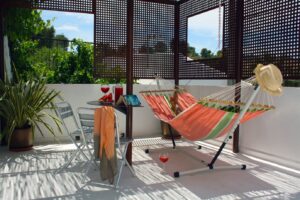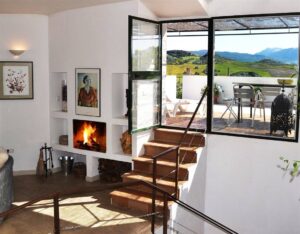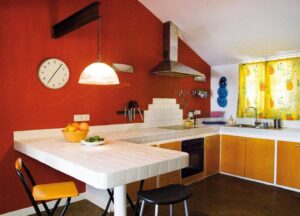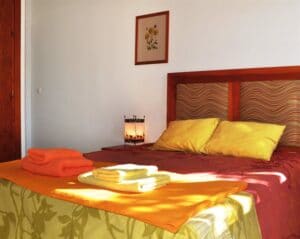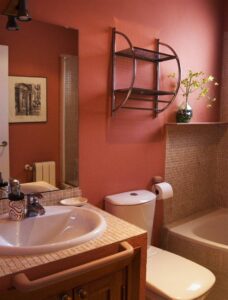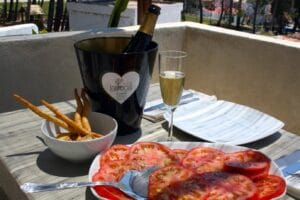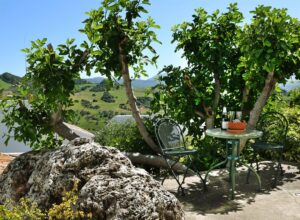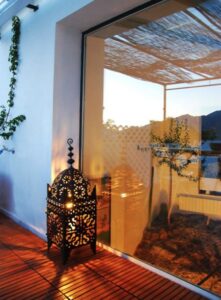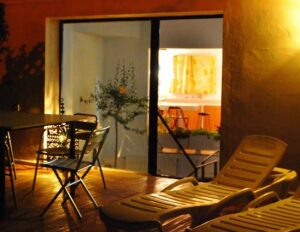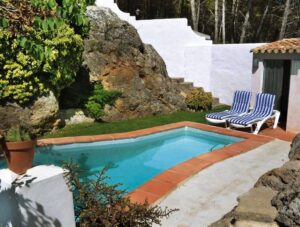 Casa Alba
From € 1090.00 p/w
6 persons
Few minutes walk from shops and bars
Rock garden with swimming pool
Very artistically decorated
Toevoegen aan mijn favorieten
Casa Alba is designed for those who love light and space. It is also a quirky design because the house is built around the existing rocks. In a miraculous way the rocks in the house emerge in all kinds of places. In the living room it is part of the lounge area and in one of the bedrooms an attractive decor behind the bed.
Description of this special holiday home in Andalusia
The detached house is located on the edge of the village of Montecorto. Casa Alba was designed by the young Spanish owner David who works as a designer in Ronda. He is mainly involved in the design of maps and other information material in the field of active tourism in Andalusia. David (speaks Spanish and English) lives in Ronda and is the ideal source of information. He is aware of all the interesting places in the region and is willing to advise and assist you.
Casa Alba is unique in design but also offers every comfort and modern conveniences. The house has central heating, fast internet, large flat screen TV, DVD player, etc. In the library, among other things, a lot of information about the nature and culture of Andalusia. From the house and the terrace by the living room you have unbeatable views of the mountains of the Sierra de Grazalema. Downstairs, in the garden is the swimming pool. The rock garden offers complete privacy.
Surroundings holiday home Casa Alba
Montecorto is located in the heart of Andalusia. You are in twenty minutes by car in Ronda and in less than two hours in Granada, Seville, Cordoba or Malaga. The nature reserves of the Sierra de Grazalema and Sierra de las Nieves are a stone's throw away. From Casa Alba you can walk in a few minutes to the bars and restaurants and the supermarket of Montecorto.
Layout of Casa Alba
Layout ground floor: large library with workspace for laptop and printer, open kitchen with breakfast bar. Additional toilet.
One level below: lounge area by the fireplace and access to terrace with dining table and sun loungers. From the terrace there are stairs to the garden.
Another level down: bedroom with 2 single beds and bedroom with 1 double bed. Bathroom with shower, sink and toilet. Access to additional terrace.
A few steps down: bedroom with double bed and private bathroom with shower, washbasin, toilet and bidet. From this bedroom you have access to the garden with swimming pool.
Remarks
• You can park at the house. • Parking in the private garage is also possible.
• Wifi internet and laptop + printer available.
• Due to the open stairwell and many stairs, it is not suitable for children under the age of seven and people with walking difficulties.
• Extra costs central heating in low season € 50,- per week.
• Air conditioning in the kitchen, living room and dining room.
• Nearest airport is Malaga (AGP) 1.5 hours' drive. • Seville (SVQ) is also 1.5 hours by car.
Availability
No special restrictions apply.
Price
Includes
bedding, hand and tea towels
water, gas and electricity (unless stated otherwise)
final cleaning
Excludes
€50 per week heating costs in low season
---
Facilities
Airconditioning
CD player
Central Heating
Dvd player
Fire place
Fridge/Freezer combo
Laptop and printer available
Oven
Pool
Television
Washing machine
WiFi
Heeerlijk!
Het huis was precies zoals het was beschreven. De ontvangst was zeer hartelijk en bij aankomst kregen we meteen een volledige uitleg en rondleiding door het huis. Mochten we na deze uitleg iets zijn vergeten, dan was er altijd nog een grote map waarin alles nog eens was beschreven. Door de verschillende niveauverschillen is huis niet geschikt voor mensen die slecht te been zijn. Verder heeft het huis aan al onze verwachtingen voldaan. De ligging, de meerdere plekjes rond het huis, zodat je altijd wel ergens kon zitten waar schaduw was, het zwembad. Alles was goed. Ontbijten op het terras met uitzicht over bergen enz. De omgeving was schitterend. De planning was om veel wandelingen te maken en vooral te genieten van de natuur. Van de wandelingen is niet veel terechtgekomen omdat de temperatuur erg hoog was. Verder was ons doel ook om de vale gieren in het wild te spotten. Dit is gelukt. Wat ook prettig was, dat San Pedro relatief dichtbij was zodat wij regelmatig in zee verkoeling konden vinden.
Dit is een uniek huis met al zijn niveauverschillen en details.
Dit is een uniek huis met al zijn niveauverschillen en details. Zoveel verschillende plekken waar je heerlijk kunt zitten. Wat een mooie uitzichten!! David is een geweldige gastheer. Top!
Fantastisch!
Wij verbleven een aantal weken in Casa Alba in Montecorto……werkelijk geweldig!!!! Allereerst de zeeer gastvrije ontvangst door eigenaar David……zo integer en behulpzaam…..fantastisch. Een bijzonder huis van alle gemakken voorzien, heerlijke lounge-plekjes en zwembad ter verkoeling. Het uitzicht vanaf het dakterras, de plek, de mensen in het dorp, je waant je even als 1 van hen. De omgeving is prachtig….de natuur de bergen (Sierra de Grazalema) het meer (Zahara de la Sierra). De vele witte dorpjes in deze omgeving zijn elke keer weer verrassend, ook zijn de steden of de kustplaatsen makkelijk te bereiken. Culinair kom je niets te kort, sublieme authentieke keuken in de omgeving, topper vinden wij Al Lago (Zahara de la Sierra) aan het meer. Gastronomisch genieten. Kortom wie echt het Spaanse leven wil beleven, weg van het massatoerisme en echt onder de "locals" wil verblijven, in harmonie met de schoonheid van deze omgeving en de zeer toegewijde David als huiseigenaar die ook vele tips heeft en altijd bereikbaar is zal een onbezorgde en sublieme ervaring opdoen.
Een meer dan geslaagde vakantie.
Wij hebben een fantastische vakantie doorgebracht in Casa Alba in Montecorto. Het huis was van alle gemakken voorzien. Het was genieten van het hele huis. 's Ochtends ontbijten op het dakterras met een fantastisch uitzicht over de bergen. Heerlijk relaxen in en bij het privé-zwembad in de mooi aangelegde rotstuin. 's Avonds vertoeven in de kamer met bibliotheek met een brede keuze aan diverse boeken in verschillende talen. Het huis heeft een mooie architectuur en is centraal gelegen. Ideaal voor uitstapjes naar o.a. Málaga, Granada, Cordoba, Sevilla en Ronda. Het dorp Montecorto is authentiek. De mensen zijn er gastvrij. De eigenaar van het huis is zeer gastvrij en behulpzaam. Geeft informatie over de omgeving, wandelroutes, bezienswaardigheden, maar ook aanbevelingen voor goede restaurants, waar wij dankbaar gebruik van hebben gemaakt. Kortom: een meer dan geslaagde vakantie tussen de Spanjaarden in de bergen, waar geen sprake is van massa-toerisme.
Leave a review
Last Minutes
contact
---
| | |
| --- | --- |
| Red | Not available |
| Green | Available / Possible day of arrival |
| Yellow | Option |
| Grey | No valid arrival day |
Click on the dates of your choice in the calendar below to choose the day of arrival and departure.
Reserve your accommodation - Quote
Your Co-tenants (including children)
Check your personal data
(Reservation not final yet)
Details of the main tenant
{{gender}} {{firstname}} {{lastname}}
{{street}} {{housenumber}}
{{secondary-phonenumber}}
Your Co-tenants (including children)
Confirm your booking
(Reservation not final yet)