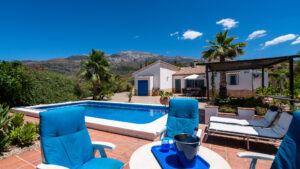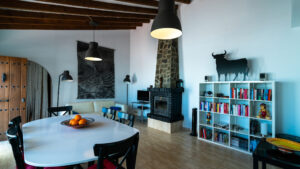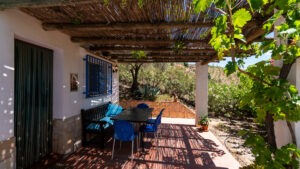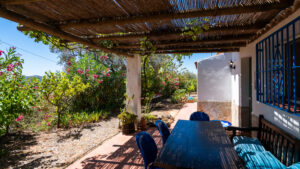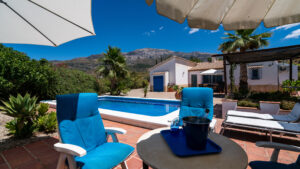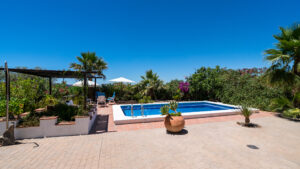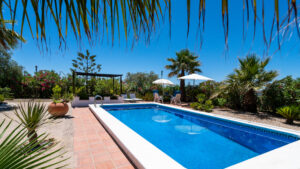 Casa Elro
From € 675.00 p/w
5 persons
Modern decor
Quiet location with large swimming pool
Very good value for money
Toevoegen aan mijn favorieten
Casa Elro is located about five kilometers outside the village of Sedella and is a wonderful place to relax. Now and then you hear the tinkle of the bells of passing sheep or goats with their shepherd, but other than that it is very quiet here.
Description of this holiday bungalow in Sedella
Casa Elro is a modern house which is fully equipped and very easily accessible. The holiday home stands on a plot of 1100 square meters, which is equipped with a fence. At the front of this holiday home is the large swimming pool and you have a sea view! At the back you have a view of the sturdy mountain 'la Maroma', which is covered with a layer of snow in the colder months. In Sedella there are some cafes, restaurants and small shops. The house is modernly furnished, there is a lot of light and thanks to the air conditioning in the bedrooms and the central heating, it is suitable for every season.
Watch an impression video of Casa Elro, here!
Surroundings of Casa Elro
Sedella can be reached by car in 5 minutes. Málagais about 70 km away. Shopping is best done in Velez-Málaga where there are some large supermarkets and you can be there in about 30 minutes. The coast can be reached in 40 minutes. The immediate vicinity of Casa Elro is very mountainous and is known for the beautiful walks and hikes you can take there.
Layout of Casa Elro
Spacious living-dining room with high ceiling and dining area for 6 persons, modern, semi-open kitchen, fully equipped. From the kitchen you have access to a shaded terrace with dining area for 6 people. On one side of the house a double room with private bathroom with shower, toilet and sink. On the other side of the house two bedrooms, 1 with a double bed and one with a single bed, furnished as a children's room, a cot can easily be added to this room. The last 2 bedrooms share a bathroom with toilet, sink, shower-bath combination.
Tip from La Taha
For those without a fear of heights, visit El Saltillo de Canillas de Aceituno. A kind of Caminito del Rey 2.0 as the locals also call this 70 meter high walkway. Casa Elro is located in a hiking paradise!
Remarks
• Minimum length of stay is 1 full week.
• Nearby Casa Coleo is from the same owners, Ellen Stinis and Rob Hendriks, renting both houses together gives space to a group of up to 10 adults.
• Cost of firewood, 15 euros per week.
• Pets allowed for a surcharge of € 30 per week.
• The nearest airport is Malaga (AGP) about an hour away.
Availability
Price
Includes
bedding, hand and tea towels
water, gas and electricity
final cleaning
Excludes
firewood if necessary: € 15 per week
---
Facilities
Airconditioning
Baby chair
Barbecue (electrical)
Breadmaker
CD player
Central Heating
Citrus press
Cot
Dishwasher
Dutch tv channels
Dvd player
Fire place
Freezer
Kettle
Loungers
Microwave
Nespresso coffee machine
Pets
Pool
Television
Thermal hob
Toaster
Vacuum cleaner
Washing machine
WiFi
Super.
De omgeving is middenin de natuur en weg van alle drukte in de schitterde bergen. De persoon die ons ontving stond al klaar op de hoek van het bergweggetje wat we in moesten slaan om bij het huis te komen. Deze man is een zeer enthousiaste en positieve persoon die ons geweldig heeft ontvangen en wegwijs heeft gemaakt in het huis. Een heerlijk huis waar wij geen enkel commentaar op hebben. Van alle gemakken voorzien, schoon, fijne plekken om te zitten/eten. Wat ons betreft super. (Enige voor ons is dat het huis iets minder ver de bergen in had mogen liggen maar dat is persoonlijk.)
De omgeving is fenomenaal.
Prachtig huis, comfortabel en gezellig ingericht, airco prettig. Huis was toch wel nog meer afgelegen dan we vooraf dachten. Zeer prettige ontvangst en tips van lokale beheerder!
De tuin en omgeving zijn een streling voor het oog.
Casa Elro voldeed aan al onze wensen, ruim, luchtig, functioneel en heel aangenaam om te verblijven. Over alles is er nagedacht… de tralies, rolluiken en horren, de schaduwrijke plekjes, aan de keuken, terras in de ochtendzon, overdag onder de palmboom, en 's avonds het terras in de inham aan de "voordeur", ideaal voor wie maximaal wil genieten van het "buitenleven". Ook de aanwezigheid van de airco's in de slaapkamers is een pluspunt bij "hete" dagen. De voorzieningen in de keuken zijn prima, en op het bed in de "koninklijke" slaapkamer valt er niets aan te merken, (we waren wel maar met 2) ik veronderstel dat de andere kamers (1 grote en 1 kleinere) ook ok waren. Het was met veel plezier dat we dagelijks de bloemen, planten en bomen zowel manueel als met het irrigatiesysteem besproeiden, een kleine moeite om te kunnen genieten van de mooie tuin. Het zwembad (ideale grootte) is top! Gastheer nam zijn taak qua ontvangst, hulp, enz… zeer ter harte, een beetje kennis van de Spaanse taal helpt.
Het was allemaal super!
Huis zag er prima uit en klopt ook met de omschrijving op de website. De omgeving was mooi en afgelegen (wat wij fijn vonden). De ontvangst door de beheerder was prima. Duidelijk waar en wanneer we elkaar zouden ontmoeten. Goede uitleg van hoe alles werkt. Ook vlotte reactie toen we een keer geen warm water hadden. Kortom: het was allemaal super!
Het is heeeeeelemaal geweldig!!?❤️
Dikke aanrader voor iedereen! Gezinnen, stelletjes, vrienden… het kan allemaal. Het contactpersoon is een lieve en behulpzame man, de villa is van alle gemakken voorzien en het is een plaaaatje! De prachtige omgeving gaan we vanaf morgen verkennen. Vanavond alvast lekker naar een restaurantje in de buurt.
Leave a review
Last Minutes
contact
---
| | |
| --- | --- |
| Red | Not available |
| Green | Available / Possible day of arrival |
| Yellow | Option |
| Grey | No valid arrival day |
Click on the dates of your choice in the calendar below to choose the day of arrival and departure.
Reserve your accommodation - Quote
Your Co-tenants (including children)
Check your personal data
(Reservation not final yet)
Details of the main tenant
{{gender}} {{firstname}} {{lastname}}
{{street}} {{housenumber}}
{{secondary-phonenumber}}
Your Co-tenants (including children)
Confirm your booking
(Reservation not final yet)