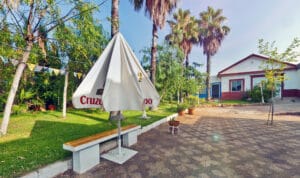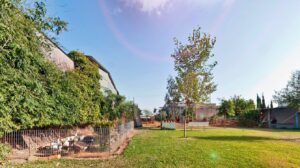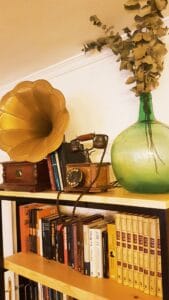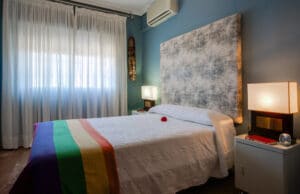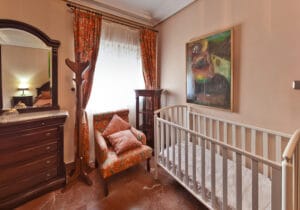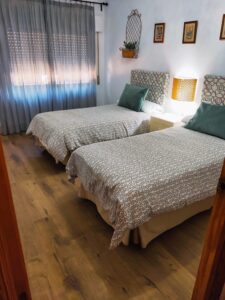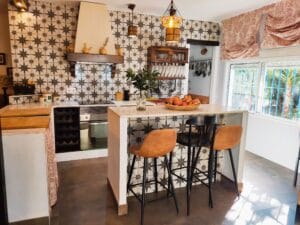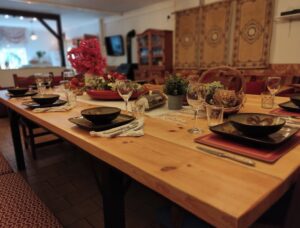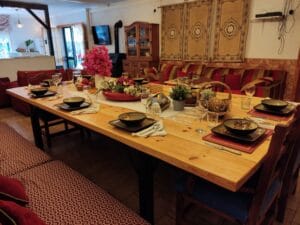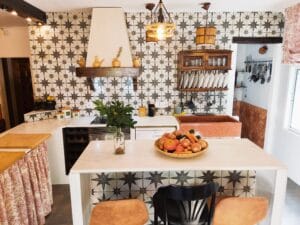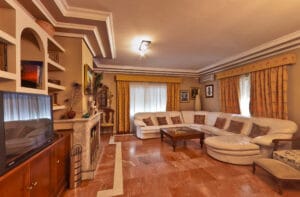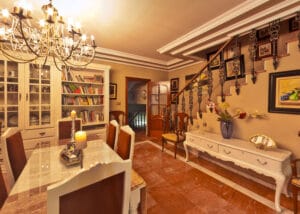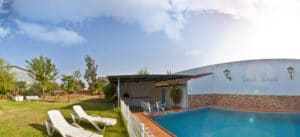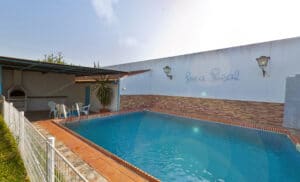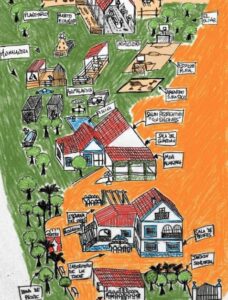 Large country house of 500 m2 on a landscaped plot of 3000 m2, and 5 hectares of land with farm animals; Finca Niebla. The huge garden is full of deciduous trees, palm trees, grasses and flora that are typical of the region. In the fields around you can discover storks on almost all high points, which breed here in large numbers.
The garden of Finca Niebla is without a doubt the biggest asset of this house, this is the ideal place to enjoy nature. Filled with sunny or shady spots, depending on the time of year, with a barbecue and garden furniture to spend unforgettable days, the little ones can enjoy themselves at their leisure and parents can relax. This place is a paradise for young and old.
In the large garden you will find a swimming pool of 8 by 8 meters, with a lawn with sunbeds, a 'games room' with football table and a table tennis table. There is also a football/basketball field and a farm with donkeys, peacocks, sheep, goats, chickens, ducks, geese, turtles, horses, pigs, etc… Fully fenced farm; ideal for walks, "adventures" and picking wild green asparagus, for example.
Layout of the holiday home
Finca Niebla has 2 living rooms, one of 50 m2 with corner sofa, dining area + fireplace and television on the first floor, and one of 75 m2 with an open kitchen with large dining table and benches all around. The biggest living room is on the ground floor, with doors and corridors all around that lead to 4 bedrooms. On the first floor there are also 4 bedrooms. The ninth bedroom is in a smaller casita on the property. In total 5 rooms with a double bed, 2 rooms with two single beds and 2 rooms with a double bed + a single bed. In addition, 4 extra single beds can be placed in different bedrooms; creating space for 24 guests. The house has four full bathrooms and two separate toilets (one more if "la casita" is used). Both floors have a kitchen with everything you need: Oven, Microwave, Dishwasher, Toaster, American fridge, bottle rack and of course all the utensils and crockery needed for a cozy stay.
Surroundings of Finca Niebla
Finca Niebla is located at the end of a cul-de-sac, on the edge of the village, outside the built-up area but a stone's throw from the historic center. The wide area invites you to enjoy nature. Worth seeing are the Tinto river and its Roman bridge, the recreation area of Jareta with typical meadow landscapes or the pine forest of the San Walabonso reservoir. In just a 10-minute walk you can visit the Castillo de Niebla and its dungeons, or one of the other ancient monuments, and enjoy the gastronomy of the city with several restaurants offering unbeatable value for money.
Remarks
– There are 4 extra beds available, so the maximum number of guests can be expanded to 24.
– The nearest airport is Seville (SVQ), about an hour away.
– The owners are on site daily to take care of all farm animals.
– Cozy, authentic family home.
– The owners love to organize trips, such as a covered wagon ride, making your own cheese, dinners cooked by grandma, and so on.
Availability
During the summer months only available for a minimum of 7 nights, arriving on Saturday.
Price
Price is all inclusive!
---
Facilities
Air conditioning in bedrooms
Airconditioning
Barbecue (charcoal)
Cinema (250 movies)
Cot
Dishwasher
Fire place
Foorball field
Huge garden!
Loungers
Microwave
Oven
Petting zoo
Pool
Snooker table
Table tennis table
WiFi
There are no reviews yet. Be the first one to write one.
Leave a review
Last Minutes
contact
---
| | |
| --- | --- |
| Red | Not available |
| Green | Available / Possible day of arrival |
| Yellow | Option |
| Grey | No valid arrival day |
Click on the dates of your choice in the calendar below to choose the day of arrival and departure.
Reserve your accommodation - Quote
Your Co-tenants (including children)
Check your personal data
(Reservation not final yet)
Details of the main tenant
{{gender}} {{firstname}} {{lastname}}
{{street}} {{housenumber}}
{{secondary-phonenumber}}
Your Co-tenants (including children)
Confirm your booking
(Reservation not final yet)